Make an appointment with us and get a FREE 20 inch Foldable Bike with 7 speed Shimano gear (worth $599) AND FREE 1-time mattress cleaning (worth $80) when you purchase selected SLEEPNIGHT or Sleepy Night models.
Make an appointment with us and get a FREE 20 inch Foldable Bike with 7 speed Shimano gear (worth $599) AND FREE 1-time mattress cleaning (worth $80) when you purchase selected SLEEPNIGHT or Sleepy Night models.
We don't just sell mattress, we understand sleep. At SLEEPNIGHT, your sleep matters to us. SLEEPNIGHT's mattresses are made of the highest quality and patented technology. With a range of products from latex, memory foam, to bamboo and cooling mattresses, find your personalised fit for the best sleep of your life.
FREE LAVISH CUTLERY OR PREMIUM KNIFE SET
Fully Redeemed
Our FREE Lavish Cutlery Set & Premium Knife Sets have been fully redeemed. We thank you for your support & trust in us. We'll keep our customers posted for any future updates on our promotion. Stay tuned!
Why SLEEPNIGHT? We strongly believe in the quality, design and craftsmanship
of our mattresses. At SLEEPNIGHT, there's a mattress for everyone.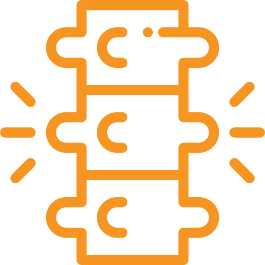 Recommended by Chiropractors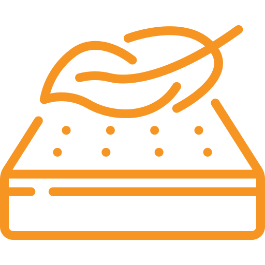 Maximum Comfort for Everybody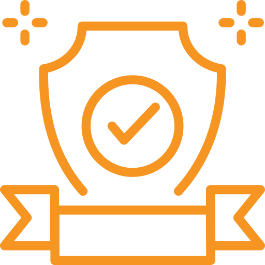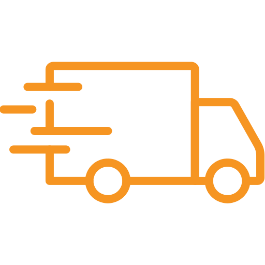 FREE Delivery & Installation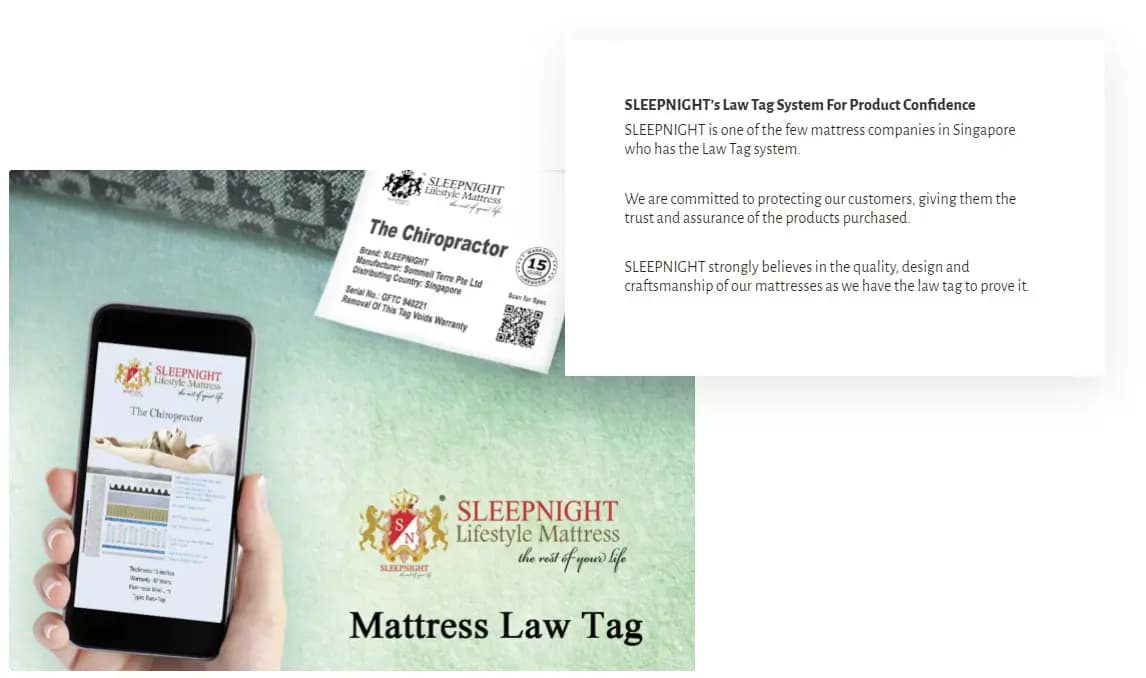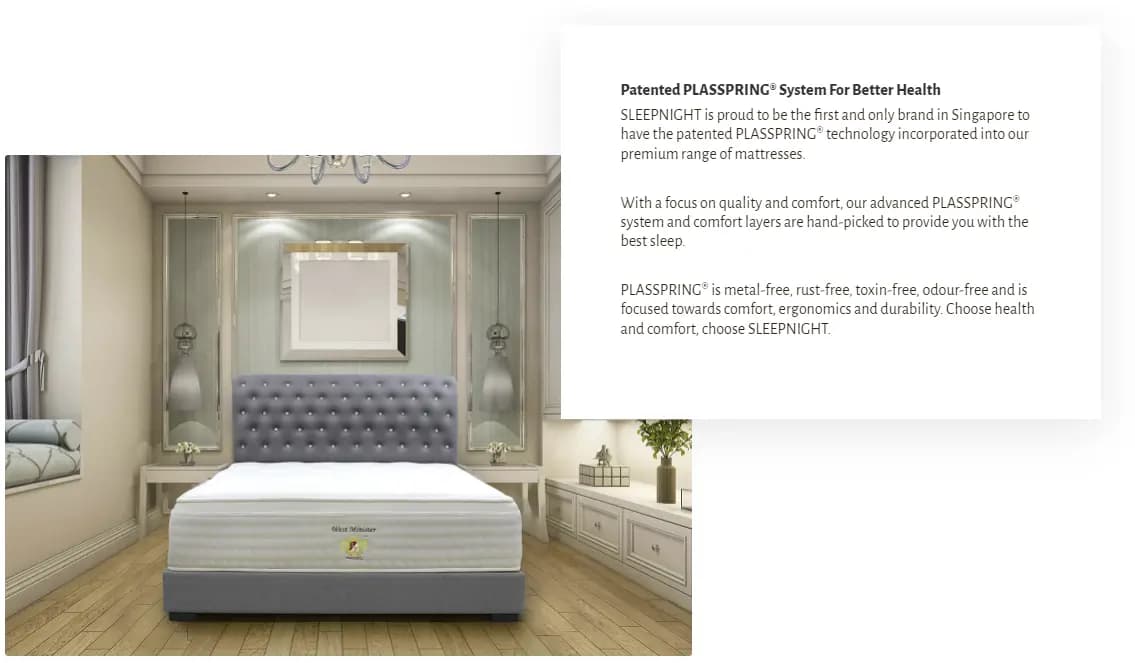 Patented PLASSPRING® System For Better Health
SLEEPNIGHT is proud to be the first and only brand in Singapore to have the patented PLASSPRING® spring mattress technology incorporated into our premium range of mattresses.
With a focus on quality and comfort, our advanced PLASSPRING® system and comfort layers are hand-picked to provide you with  the best sleep.
PLASSPRING® is metal-free, rust-free, toxin-free, odour-free and is focused towards comfort, ergonomics and durability. Choose health and comfort, choose SLEEPNIGHT.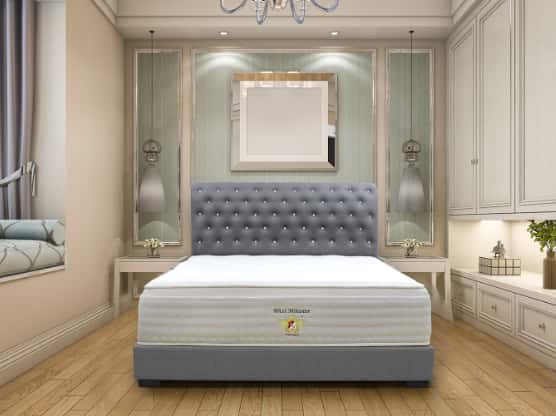 SLEEPNIGHT's Law Tag System For Product Confidence
SLEEPNIGHT is one of the few mattress companies in Singapore who has the Law Tag system.  
We are committed to protecting our customers, giving them the trust and assurance of the products purchased. 
SLEEPNIGHT strongly believes in the quality, design and craftsmanship of our mattresses as we have the law tag to prove it.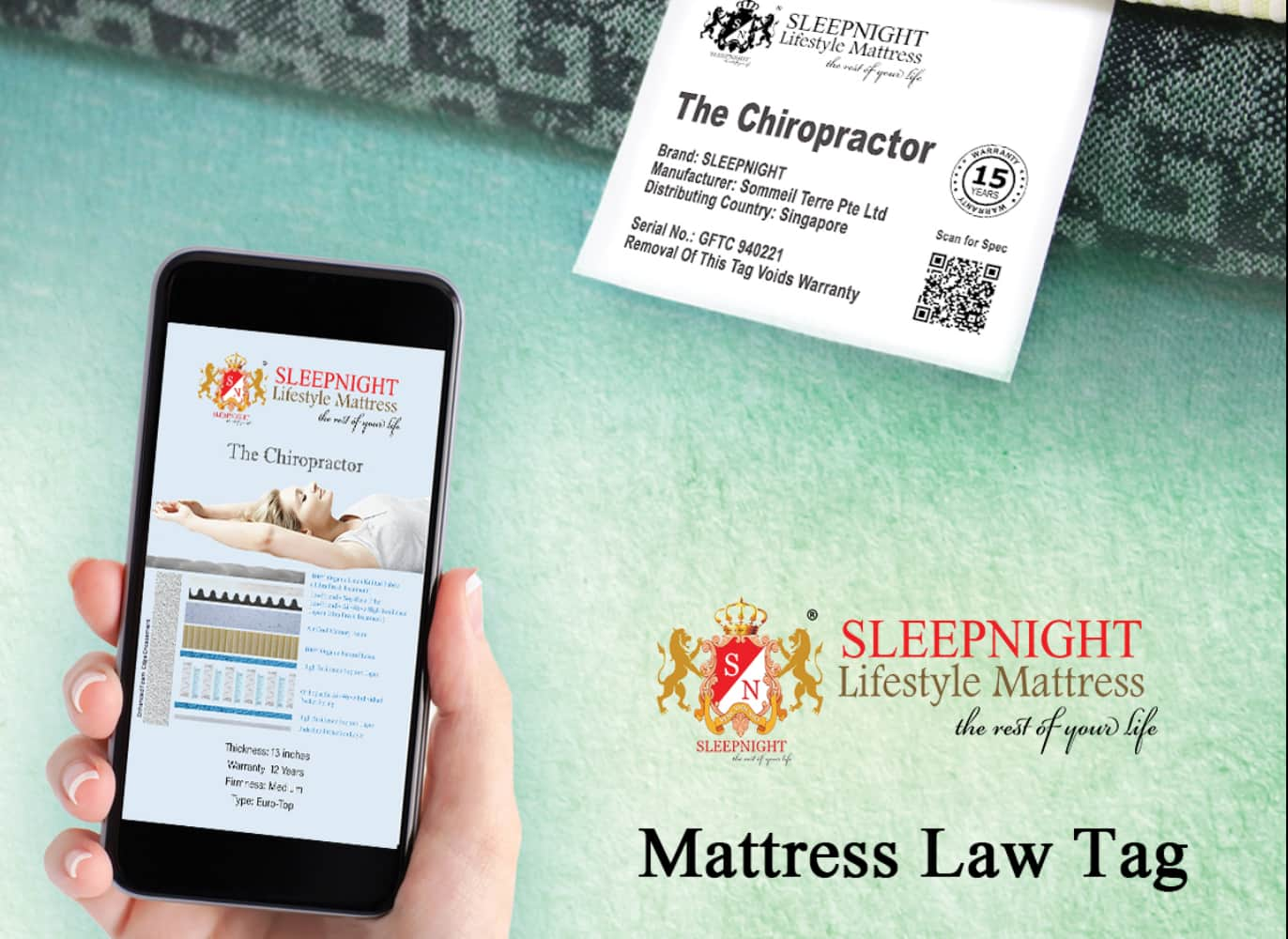 Find your perfect fit with our range of SLEEPNIGHT mattresses.
More comfy than other brands I tried
Bought a queen size for my new house, satisfied with my purchase. Bed is more comfy then other brands I tried. Thanks to Lisa (from Sleepnight : Nex) who gave me good advice on how to select a bed, she was responsive even when I had after-sales questions.
Highly Recommended
I have a problem with my spine. The staff at SleepNight NEX asked me very carefully and explain their house brand bed and pillows. After his very friendly and serious explanation, I decided to buy it. Thanks to Ah Wai for helping me solve my problem SleepNight product is really good. Highly recommended.
Excellent bedding and mattress
Great excellent service! Superb excellent bedding and mattress. Have been shopping for quite a while for a good bed! And here we found it!
Second SLEEPNIGHT purchase
This is the second bed we bought from Sleepnight. The salesperson Micheal was very friendly, patient and focused. Product knowledge is good. The price consider mid range and we find it value for money compared to other famous brands.
Wonderful Service
Friendly and nice! Gives good recommendations too
Great value for money
Good service from Michael. Price of mattress is affordable.
Great investment for a good night's sleep
SLEEPNIGHT 'Cooling Inspiration' mattress is so comfortable & cooling! Layered with premium cooling silk knitted fabric, 100% natural latex & orthopaedic individual pocket spring. Definitely worth the investment for a good night's sleep!
Trusted by chiropractors
Was recommended to try Sleepnight mattress as they are acknowledged by chiropractors to provide pressure relief, support and durability for an enhanced sleep experience. I had so much fun trying out the different kinds of mattresses. Recommend this for anyone looking to improve their sleep quality and health!
Great purchase
Went to about 5 shops before walking into Sleepnight. Sales Linda is knowledgeable and helpful. We made our choice of mattresses within 30mins!
Second time purchasing
We are well served by Dephni. This our second time purchased complete bed and frame. Good quality. Dephni is knowledgeable and give us a good service and prices too.
Wide product range of premium quality
Recommended to try SLEEPNIGHT mattress when you are looking a new mattress. They have wide range of products with premium quality. We like their chiro, franklin and superior luxury. When we lay down on the mattress, it was very comforting and has excellent back support.
Caring service & great recommendation
I was attended by Alex Ang. He is very caring and give very good recommendation for mattress selection and headboard colour matching. Highly recommended to buy from him.
Second-time purchase
second-time purchase here at the outlet at IMM and assisted by Linda. great service rendered and mattresses are great and value-for-money.
Top-notch range and quality
Staff are very friendly and more importantly the range and quality of the mattresses are top notch.
Quality speaks for itself
Tried on a few mattress and decide right away. Sales person highly recommended as well! ☺️
SLEEPNIGHT improved my sleep quality
Love my mattress. It's so comfortable! SLEEPNIGHT Mattress improves my sleep quality too. 👍
Great purchase for my kid
Good service and great experience. Glad that we managed to find a suitable bed for my boy.
Perfect mattress for parents
Nothing beats a good night sleep especially being a parent myself. I have been waking up with body aches, pains, and don't feel rested, but not until recurrent flare of my dust allergies calls up for a change of mattress. Now I can sleep comfortably with SLEEPNIGHT luxury mattress with the best cooling sensation.
Excellent service
Excellent explanation of mattress differences from staff at Yishun Northpoint showroom 🙂 and very friendly and patience to let us try the different mattress before buying.
Love my purchase
Good customer service from yishun branch. Look forward to a good night rest with this new bed
Good service
Service was good and personal. Service staff Lee Keng was attentive and kind, listened to my needs and assisted in a patient manner.
Highly recommended brand
One of the best customer services and bed mattresses they have in Singapore, way better than other brands in Singapore. Highly recommended! The manager alan is very knowledgeable and explains many good simple technical terms to me for my own knowledge!
Customised packages for your budget
Excellent customer service! Friendly staff! Alan was very nice, showed us various options that suited our budget as well. There are also various customisable packages to suit your budget! Mattress quality is excellent!
Wide range of choices
Impressed by the wide range of mattresses and bed frames choices at Sleepnight. Steven Choo is warm, friendly and goes out of the way to advise us on the best beds to get and gives us the best price possible. Happy to be served by him!!
Sleep like a king
"Having a hard time to look for the best mattress for a change ! But luckily I found SLEEPNIGHT mattress ! Kudos to the staffs that work here as they help to guide me through to find the most comfortable mattress so that I can feel like a king and sleep soundly ! Ranging from spring mattress to foam mattress, there is a suitable mattress for everyone if you are planning to change mattress , do put SLEEPNIGHT in your list! ❤️"
Great customer service
Had a great experience at this place, the customer service was amazing! Mr Alan really made us feel comfortable and assisted us in every way possible! 😀
Great products that suit your needs
I came to buy mattress and Ms Sharon Chua attend to me. She is very friendly and she knows the mattress very well. She recommended me the correct mattress which suits my needs well.
Reasonably priced
Sharon did a great job in recommending the type of mattress that was best suited to us. Very reasonable pricing, highly recommended
Friendly & knowledgeable staff
Angie was very friendly and knowledgeable about the mattresses. Was a nice experience trying the mattresses.
Only brand in Singapore with PLASSPRING® technology
I read about SLEEPNIGHT being the first and only brand in Singapore to have the patented PLASSPRING® technology incorporated into their premium range of mattresses. I tried & love this Cooling Grand Comfort. It has a premium cooling silk knitted fabric which is so apt for our all-day summer weather!
Fuss-free shopping experience
Very good service by Coco and Sam! They help me to select my bed frame and mattress easily! Recommend to buy from Jurong point outlet and look for them. Love the way they keep the invoice!
Helpful and prompt delivery
Sales consultant Coco He was friendly and approachable. She was patient and knowledgeable in providing good advice to us on the selection of mattresses. In addition, the delivery was prompt and helpful too.
Attractive promotional package
We walked into Sleepnight Jurong Point outlet and was greeted by Sam. We tried a few mattresses, Sam did a fabulous job in recommending the right type and we ended up buying our mattress and bed at an attractive promotional package. Value for money! Excellent customer service and product knowledge! Support Local!
Great recommendations
Bought our mattress and storage bed from Jurong Point outlet. The staff named Sam provided excellent service! He explained the difference in mattresses really well. He also provided us good recommendation for the bed.
Comfy mattress suitable for our climate
Excellent customer service! The mattress here are really comfy and catered to the hot weather in Sinagpore! Will recommend this to my family and friends!
SLEEPNIGHT Lifestyle Mattress
Get the best rest of your life.
SLEEPNIGHT Lifestyle Mattress
Get the best rest of your life.